1.Service Description
・Our team of experienced specialists can handle all the immigration applications for your foreign employees on your behalf. Feel reassured that we would propose the most suitable visa type for the employee in light of the job content and employment situation as well as explaining the risks and obligations for your company.
・We can also make direct contact with the foreign candidates/employees in English and Chinese to explain the necessary documents and the procedures.
・Our office submit applications at the Immigration Office multiple times a week. There is generally no need for your company or employee to take any trip. Any additional explanation or document requests from the Immigration Office would be handled by our specialists in accordance with the client's wishes.
・Many public companies with large numbers of foreign employees benefit from our service. From status expiry management, checking visa type, consultation for the individual employees to advice in times of trouble, we would propose a plan that suits your company's needs.
2.Service Examples
Case 1
IT and communications company in Tokyo with more than 1000 employees
・We have been entrusted with the residency procedures for nearly 2000 foreign engineers and their families. The company HR manages the data and deadlines of new recruits and employees and provides us with lists routinely as applications are required. ACROSEED contacts each of the foreign employees to explain and prepare the necessary documents.
・Our office shares a database of info with the company and regularly updates the company HR with the case progresses. The company HR is able to keep track through both email records and progress charts.
・When hiring overseas talents, our office obtains and sends the Certificate of Eligibility ('COE') to the individual talents and keep track of their visa application at the Japanese embassy and plans for entering Japan.
---
Case2
Game production company in Tokyo with more than 200 employees
・We assist around 80 foreign engineers with their immigration procedures. As the company supports their foreign employees to gain permanent residency, our office handles applications for 'Highly Skilled Professional' and 'Permanent Resident' status as well as the usual 'Engineer/Specialist in Humanities/International Services' status type.
・We provide expert advice to the company regarding entry/departure during the COVID-19 crisis and concerns regarding the employees' and their families' residence statuses.
・ACROSEED can advise foreign employees in both English and Chinese to ensure smooth business operations for the managers.
---
Case3
Recruitment & Dispatchment company in Tochigi with 120 employees
・Our specialists assessed the foreign candidates' information and ensured that they have a high chance of gaining a work visa prior to our client introducing them to Japanese companies. 
・In addition to applications, we also advised the company on the visa implications during times of dispute concerning dispatched workers.
・We also advised the company on how to establish internship and summer job programs in cooperation with overseas universities, including residence procedures, work content, and employment contracts.
---
Case4
International school in Tokyo with 80 employees
・We brought nearly 30 native English teachers from overseas, renewing their "educational" visas, and handled the residency procedures for their accompanying family members.
・In addition to contacts with the company HR, we also handled direct enquiries from the teachers in English.
・Although not covered by the school, many teachers appreciated our assistance and special discount in obtaining permanent residency.
3.Fee Estimates
・Please feel welcome to share your concerns with us and enquire about our services. We would propose the most appropriate fee structure for your individual case and requests.
4.サービスサイト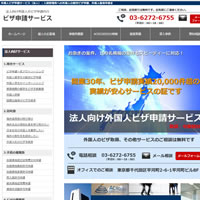 1.外国人社員のビザ申請や在留資格の管理のアウトソーシング
2.教育機関の留学生ビザ手続き受託業務
3.国際会議、社内研修等への海外出席者 招へい手続き
4.外国人学生のインターンシップビザ申請
5.フィリピン人雇用時のPOLO、POEA手続き